What makes a business, good for your business?
Expect results
The power in partnerships is the combined strength of solutions and technologies. You get the flexibility and adaptability to fit together the ideal solution. Our long-standing partnerships with AWS and NetApp offers you the best-of-the-best. You can expect results.
PRESENTATION:
The Power of Partnerships
Learn about the InterVision-NetApp partnership story and how it can transform your organization.
Venetian mini-theatre
Presented by Steve Bos, Architect Lead at InterVision
November 30, 2022 at 3:30 p.m.
December 1, 2022 at 11:30 a.m.
Visit us at the NetApp booth #2404
How we can help you get to the cloud with NetApp and AWS
Our partnership with NetApp and AWS helps clients push workloads anywhere with ease and allows the consumption of data in real-time.
How we help our clients get to the cloud
We often collaborate with multiple partners to achieve the business outcomes sought. In this video, we explain how our partnership with NetApp and AWS helps clients push workloads anywhere with ease allowing the consumption of data in real-time.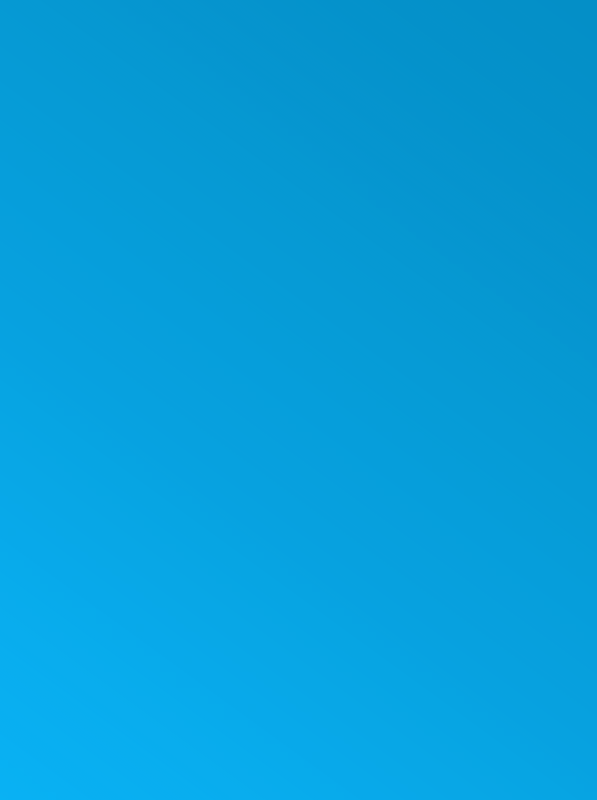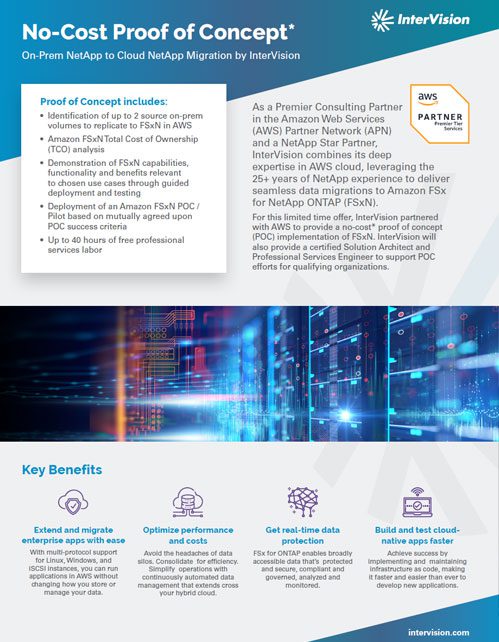 No-Cost Proof of Concept (POC) Implementation of FSxN
InterVision partnered with AWS to provide a no-cost* proof of concept (POC) implementation of FSxN. InterVision will also provide a certified Solution Architect and a Professional Services Engineer to support POC efforts for qualifying organizations. This is a limited time offer.
The NetApp and InterVision partnership: Driving success since 1997

With more than 25 years of experience and a 1,000 deployments and counting, the success of our partnership is due to best-in-class NetApp solutions, like Cloud ONTAP™, and InterVision's engineering expertise and delivering superior service and support.
---
InterVision named by NetApp as the most valuable partner in 2022 for the West region.
---
---
InterVision's offers over 125 Amazon certifications with accreditations across seven disciplines, and over 250 successful deliveries by professional services.
---
Get the cloud right with AWS and InterVision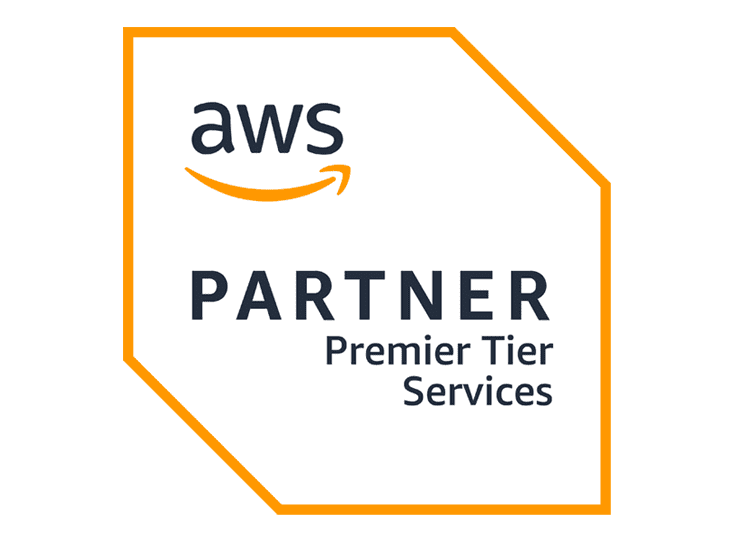 As a Premier AWS Service partner, we provide a deep portfolio of related services. These range from security-related disaster recovery and ransomware protection, assessment services, cloud cost optimization, cloud-based VDI, and an assortment of migration capabilities.
Use NetApp Cloud Volumes for Microsoft Workloads on AWS
Microsoft workloads can succeed in the cloud. NetApp's cloud storage platform seamlessly handles your cloud or multicloud environments with the same architecture as on-premises or in any cloud. You can optimize your cloud environment for security and speed while ensuring ongoing operations.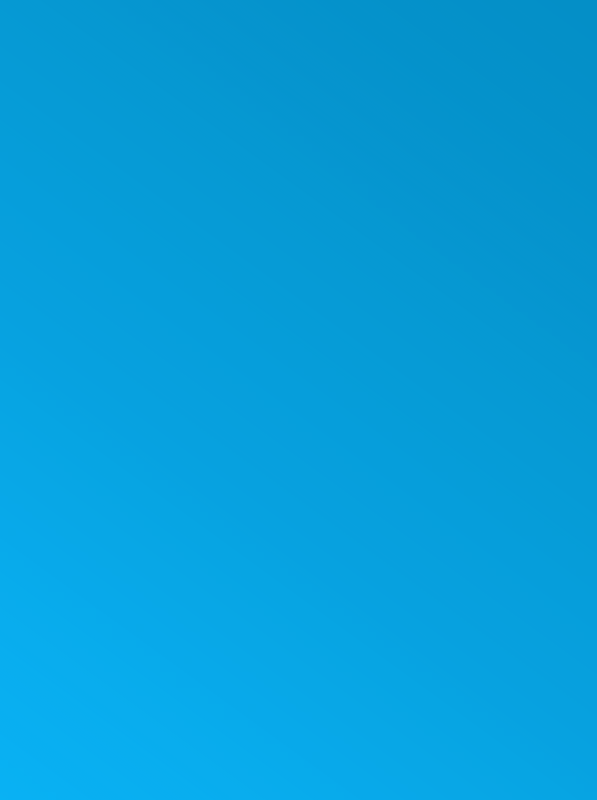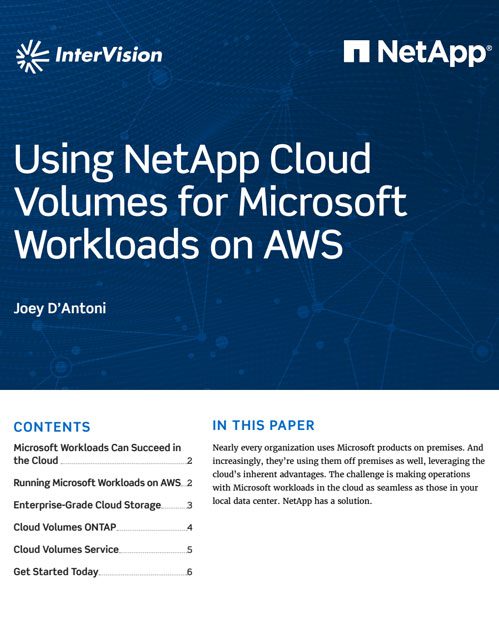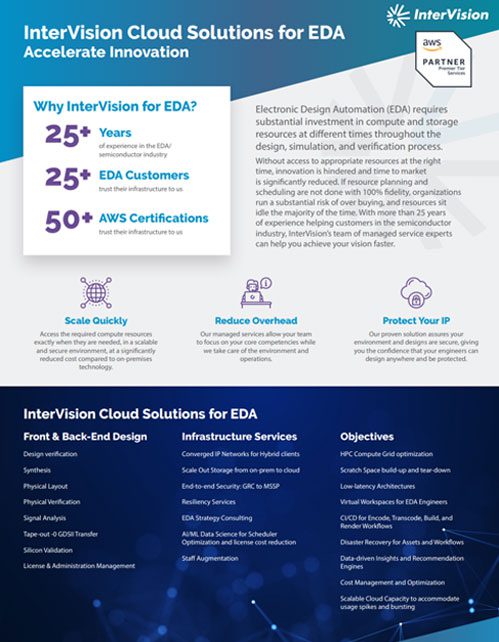 InterVision's Cloud Solutions for EDA
Achieve your vision faster with proven expertise and competencies in the EDA/semiconductor industry.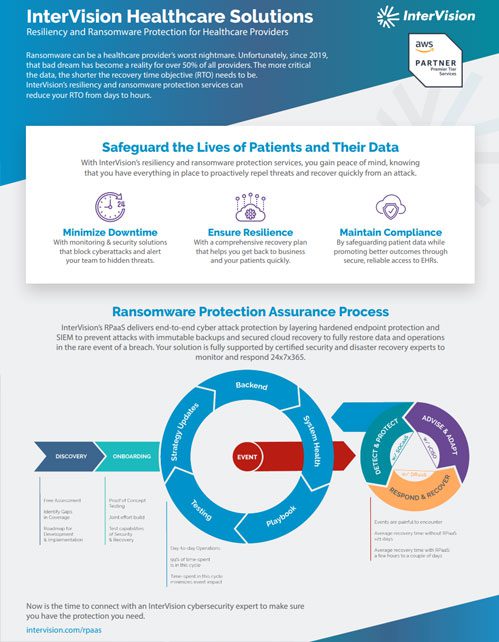 Resiliency and RPaaS™ for Healthcare Providers
Ransomware can be a provider's worst nightmare. Safeguard the lives of patients and their data with true recovery time objective (RTO), measured in hours, not days.
Interested in Learning More?
The FIRST 50 persons to show interest in continuing the conversation will receive a Starbucks eGift card*
*must share valid work email address and be open for a follow-up call.
Knowledge is power
Our experts have compiled research and recommendations to help you better understand threats, protection, and solutions.