In this post, I will talk about enterprise-class storage, stalled migrations, data led migrations, and why the combination of InterVision and Amazon FSx  for NetApp ONTAP is the answer. There may be some confusion around the name: FSxN and FSx for NetApp ONTAP are the same thing, they are NetApp's powerful enterprise-class data storage in AWS data centers.  If you are a NetApp customer, you know what ONTAP is, and FSxN may not mean as much to you.  Whereas if you are not a previous NetApp customer, then this may all be a bit confusing, but this is the technology business, and creating acronyms and jargon is what we do.  I endeavor to use the term FSxN unless I refer to a specific attribute of ONTAPf ONTAP.  I also grew up in the UK, so ONTAP is a term that I like to hear! 
I have been in technology for three decades, and data has always been a focus. When I talk with clients about their organization, I think about the data they track and how data flows in and out of their organization. I focus on what data is created when they interact with their clients and increasing how self-service creates data that flows through their organization. This helps me understand how their technology (hardware, software) relates to the data and how processes and workloads are involved with data. User interfaces, applications, hardware are upgraded, evolved, and changed over time; data remains. It is what makes the enterprise who they are. With that in mind, "data-led migrations" are near and dear to me – it makes sense that organizations focus on their data and migrate applications and infrastructure to the public cloud, with data being the focal point. 
Many organizations have sophisticated data storage devices in their data centers and server rooms, and they use sophisticated data management tools to interact with these devices.  Migrating data from multi-protocol NAS (Network-Attached Storage) devices to the cloud brings many benefits, including scalability, flexibility, and cost-efficiency. However, data ownership, privacy concerns, complex security configurations, and handling high volumes of files with frequent updates on the source NAS device can pose challenges. In this blog post, we will explore these complexities and provide insights into successfully migrating to AWS FSxN while addressing data ownership, privacy, security, and handling high volumes of files and update rates. 
Why are most complex workloads still running on premises? 
​Gartner tells us that over 90% of organizations have workloads in the public cloud.  However, Gartner and others also tell us that more than half of the workloads are not in the cloud.​ The easy to migrate applications have already been migrated.  The complex workloads that are reliant on sophisticated storage services and that leverage enterprise class storage tools have not been migrated.​ One of the main reasons is that enterprise class storage services and tools have not been broadly available in the public cloud – until now! 
Enterprise Class Storage at its best: 
So, Enterprise Class Storage in the public cloud is the answer.  Currently there is only one Enterprise Class Storage service available from the large public cloud providers and the is AWS FSx for NetApp ONTAP which is called FSxN for short.  This is an awesome combination of the best Enterprise Class Storage solution in the best public cloud.    
Amazon FSxN  provides feature-rich, high-performance, and highly reliable storage built on NetApp's popular ONTAP file system and fully managed by AWS.​ 
Broadly accessible 

from Linux, Windows, and macOS compute instances and devices (running on AWS or on-premises) via industry-standard NFS, SMB, and iSCSI protocols.​

 

Provides 

ONTAP's popular data management capabilities

 like Snapshots, SnapMirror (for data replication), FlexClone (for data cloning), and data compression / deduplication.​

 

Automatically tiers infrequently-accessed data 

to capacity pool storage, a fully elastic storage tier that can scale to petabytes in size and is cost-optimized for infrequently-accessed data.​

 

Offers highly-available and highly-durable multi-AZ storage 

with support for cross-region replication and built-in, fully managed backups.​

 

Integrates with Microsoft Active Directory (AD) 

to support Windows-based environments and enterprises.​

 

All file system 

data is automatically encrypted at rest.

 
Beyond the technology there are a number of topics that must be dealt with to successfully migrate data to the cloud: 
Data Ownership and Governance

 

Privacy Concerns

 

Complex Security Configurations

 

Handling High Volumes of Files and Update Rates:

 
Data Ownership and Governance: When dealing with data ownership during migration, it is crucial to establish clear accountability and governance. Consider the following practices: 
Data Inventory and Classification: Conduct a comprehensive data inventory and classification exercise to identify the ownership of data and understand its sensitivity. Categorize data based on ownership, access requirements, and regulatory compliance obligations.

 
Stakeholder Collaboration: Engage data owners, IT, legal, and compliance teams to define ownership rights, roles, and responsibilities. Collaboration ensures a unified approach to data governance throughout the migration process.

 
Data Access Controls: Implement granular access controls and permission mechanisms both on the source NAS device and in FSxN. Leverage AWS Identity and Access Management (IAM) to enforce fine-grained access policies, ensuring that data is accessible only to authorized users.

 
Privacy Concerns: Preserving data privacy is critical during migration, especially when handling sensitive information. Consider the following steps to address privacy concerns: 
Data Masking and Encryption: Prioritize data masking and encryption techniques to protect sensitive data. Anonymize or pseudonymize personally identifiable information (PII) and implement encryption mechanisms, both in transit and at rest, using AWS encryption services.

 
Data Minimization: Minimize the amount of personally identifiable information migrated to FSxN. Evaluate the necessity of each data element and ensure that only essential information is transferred.

 
Privacy Impact Assessments: Perform privacy impact assessments to identify potential risks and implications of data migration. Mitigate risks by implementing appropriate privacy controls, such as auditing and monitoring mechanisms, to ensure compliance with data protection regulations.

 
Complex Security Configurations: Multi-protocol NAS devices often have intricate security configurations. To maintain data security during migration, address the following challenges: 
Security Audits and Updates: Conduct thorough security audits of the source NAS device, identifying any vulnerabilities or misconfigurations. Patch and update the system to enhance security before initiating the migration process.

 
Secure Data Transfer: Implement secure data transfer mechanisms, such as SSL/TLS encryption, to protect data during transit. Leverage AWS Direct Connect or VPN (Virtual Private Network) connections to establish secure communication channels between the source NAS device and FSxN.

 
Access Controls and User Permissions: Review and refine access controls and user permissions on both the source NAS device and FSxN. Utilize AWS IAM to enforce strong authentication, access restrictions, and role-based access controls to safeguard data integrity and confidentiality.

 
Handling High Volumes of Files and Update Rates: Managing large file volumes and frequent updates on the source NAS device requires careful planning. Consider the following strategies: 
Scalable Architecture Design: Design a scalable architecture for FSxN that can handle high file volumes and update rates. Leverage the elasticity and scalability of the cloud to accommodate growing storage requirements and increased update rates.

 

Data Transfer Optimization: Utilize AWS DataSync or NetApp's replication tools to optimize data transfer and synchronization between the source NAS device and FSx.  At InterVision we also use the most powerful data migration tool available: Datadobi (

https://datadobi.com/solutions/

).  Our engineers are certified with Datadobi and highly experienced in using this specialized tool, which really shines on the most complex, large-scale migrations.

 
Pick the right partner to help you: InterVision! 
So, after looking at this long list of things you need to do to successfully move your data to the cloud you realize you need help.  InterVision is here for you! 
We have a unique combination of AWS Migration skills and experience combined with decades of NetApp experiences.  We will help you migrate safely, securely, and cost-effectively. 
Our qualifications include: 
AWS Premier Tier Services Partner with deep migration expertise and a proven track record​

AWS Migration Competency​

NetApp partner of the year in 2022​

Deep experience in deploying and managing on-prem NetApp workloads​

Successful migrations from on-prem NetApp to FSxN​

 

Fully manage your environment; transition to your team; train your team​

Bottom line: we help you move your data safely, securely, and cost effectively.
 Below is an example FSxN hybrid architecture delivered by InterVision.  This is an example of FSxN done right, delivering a highly available, fault tolerant, resilient enterprise class storage solution in the public cloud.  And it is cost effective!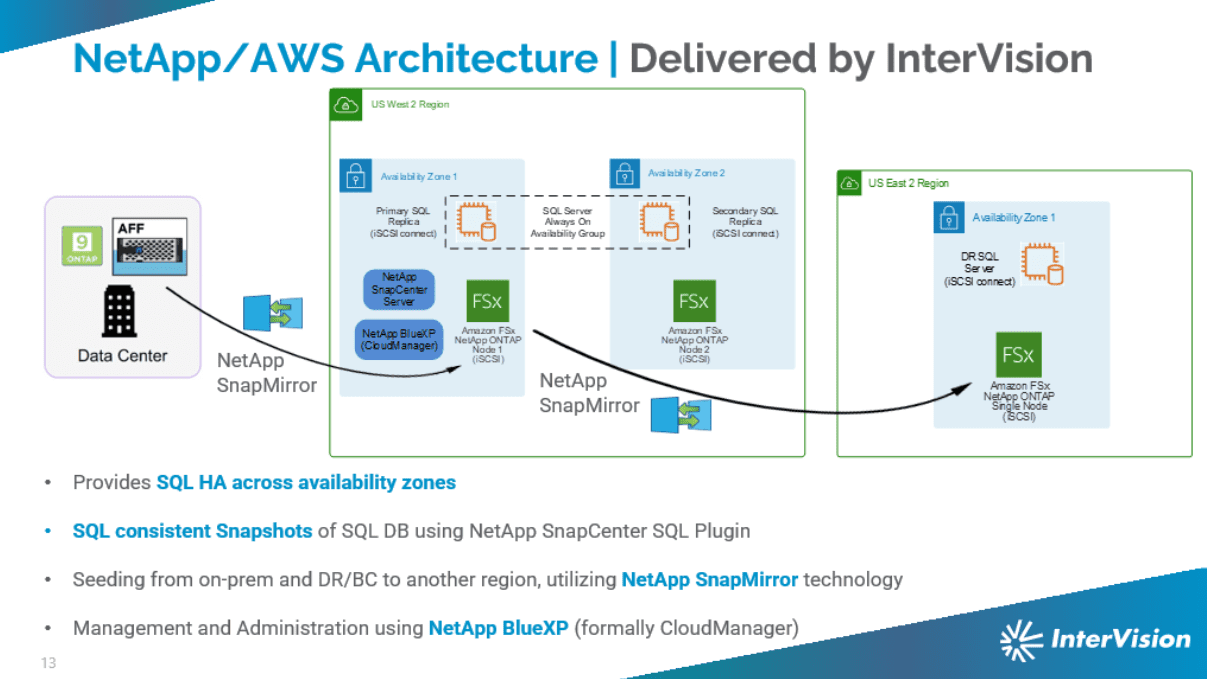 InterVision provide a white glove service – we can do it all for you, or you can be involved.  We can do as much or as little as you want.  We can also manage your entire AWS environment permanently or until your people are up to speed.  We also offer AWS training to get your team up to speed.​ We will fit in to meet your needs, but most importantly, we will get technology working for you! 
Knowledge is power
Our experts have compiled research and recommendations to help you better understand threats, protection, and solutions.