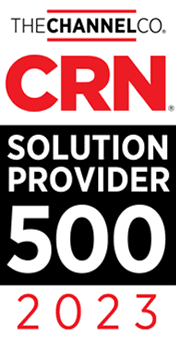 Leading IT managed services provider named to top 100 of CRN Solution Provider 500 List
San Jose, Calif. and St. Louis, Mo, May 31, 2023 — InterVision, a leading information technology (IT) managed services provider, today is pleased to announce that CRN®, a brand of The Channel Company, has named InterVision to the top 100 of its 2023 Solution Provider 500 list.
CRN's annual Solution Provider 500 ranks North America's largest solution providers by revenue and serves as the gold standard for recognizing some of the channel's most successful companies. This year's list of companies represents combined revenue of more than $475.9 billion, and the honorees are among the top influencers impacting today's IT industry and the global technology supply chain.
With 30 years of experience alongside premium solutions, services, support and strategic application of innovative technologies, InterVision has one of the most comprehensive product portfolios in the IT industry. By focusing on the customer experience, InterVision drives business outcomes to ensure organizations are more competitive, compliance and secure.
"We are honored CRN has recognized InterVision again as a top solution provider in the IT industry," said Jonathan Lerner, President and CEO at InterVision. "As a top 100 CRN solution provider, we plan to channel our continued growth and success to further address customer needs with offerings and services specifically tailored to the real challenges organizations face in today's fast-evolving world."
"It's a distinct honor to recognize CRN's 2023 Solution Provider 500. These are today's top technology integrators, strategic service providers, and IT consulting firms, making this list the go-to resource for creating strategic partnerships among technology vendors and today's top-performing IT solution providers," said Blaine Raddon, CEO of The Channel Company. "My heartfelt congratulations go out to each of these companies for the significant impact they make on the continued growth and success of the IT channel."
CRN's 2023 Solution Provider 500 list will be available online at www.CRN.com/SP500, and a sampling of the list will be featured in the June issue of CRN Magazine.
About InterVision
InterVision is a leading IT managed services provider, delivering and supporting cloud, security and innovation for mid-to-enterprise and public sector organizations throughout the US. With 30 years of experience and one of the most comprehensive solution portfolios, InterVision drives business outcomes with an unparalleled focus on the customer and employee experience to help organizations be more competitive, compliant, and secure. The company has headquarters in St. Louis with locations in Boston, Richmond, Roanoke, Sacramento, San Francisco, Seattle, San Jose, Kosovo and India. Experience us at www.intervision.com.
About The Channel Company
The Channel Company enables breakthrough IT channel performance with our dominant media, engaging events, expert consulting and education, and innovative marketing services and platforms. As the channel catalyst, we connect and empower technology suppliers, solution providers, and end users. Backed by more than 30 years of unequaled channel experience, we draw from our deep knowledge to envision innovative solutions for ever-evolving challenges in the technology marketplace. www.thechannelcompany.com
Follow The Channel Company: Twitter, LinkedIn, and Facebook.
© 2023 The Channel Company, LLC. CRN is a registered trademark of The Channel Company, LLC. All rights reserved.
The Channel Company Contact:
Natalie Lewis
The Channel Company
nlewis@thechannelcompany.com
Knowledge is power
Our experts have compiled research and recommendations to help you better understand threats, protection, and solutions.