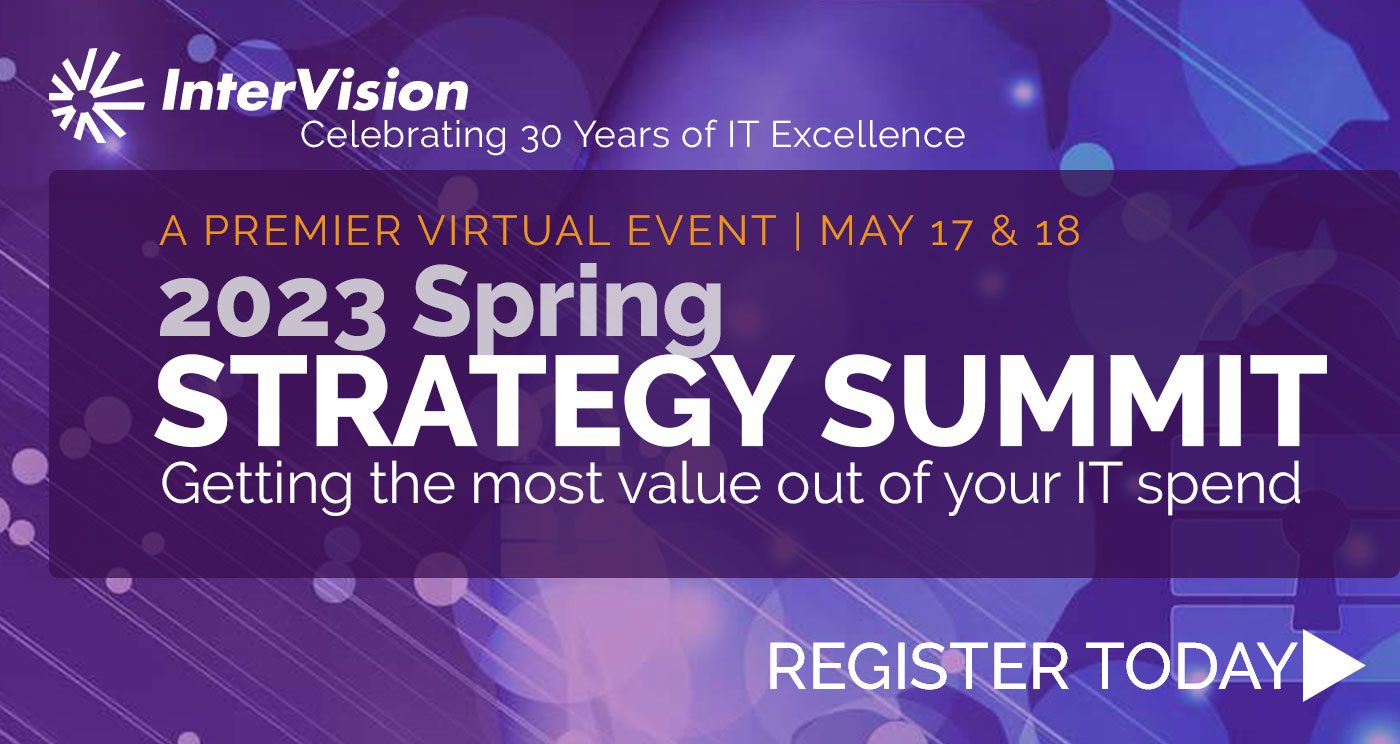 THANK YOU to those who attended, our partners, panelists, and moderators. The recording will be available shortly!
A premier live, virtual event filled with insights from your peers and cloud, collaboration, security, and innovation experts!
Join InterVision and IT leaders from across the USA for live, interactive conversations on the opportunities and challenges in today's world and beyond. During this event, you'll hear:
How to jettison your organization's edge
How to take on ransomware, data breaches, and other security threats
How to modernize your organization to stay competitive and secure
How to think differently about partnerships to get the most out of your investments
Agenda & Speakers:
InterVision Live Webinar: 2023 Spring Strategy Summit | May 17 & 18, 2023
*Please note: Agenda may be subject to change.

11:30am ET
Welcome & Housekeeping 
Jeff Ton, Moderator, Jeff Ton Enterprises
11:35am ET
New Era of Customer Experience – Stronger Together
Jonathan Lerner, President & CEO, InterVision
12:00pm ET
What's Here Now? What's Next. Stepping into the Application, Data and AI Modernization World
Brent Lazarenko, VP – Innovation, InterVision
1:00pm ET
What Can You Afford to Lose? Importance of an IR Plan
Adam Scamihorn, Product Director, InterVision & Arctic Wolf
2:00pm ET
Out of the Basement & Into the Cloud – Data Led Migration with AWS & NetApp
John Gray, CPO, InterVision
2:45pm ET
Security in the Cloud: A Shared Responsibility
David Gaffney & Zach Moore, COE Leaders, InterVision
3:30pm ET
Microsoft 365: Do More with Less
Rob Spitzer, Director, Microsoft Professional Service, InterVision
11:30am ET
Welcome to Day 2
Jeff Ton, Moderator, Jeff Ton Enterprises
11:35am ET
Value of Partnerships – 30 Years & Going Strong
Tony Bailey, EVP, Jonathan Bunce, AVP & Key Strategic Partners, InterVision

12:00pm ET
Meeting of the Minds | A Candid Conversation
Vickie Landeche, SVP, InterVision
12:30pm ET
Beyond Keeping the Lights On: Operations Center Essentials
Ben Martin, VP, InterVision
1:00pm ET
Panel: You Had Me at Hello – Future of Omnichannel Communications
Brad Holland, Josh Ellis, Michael Molla, Matt Campbell, Collaboration Experts, InterVision
2:00pm ET
Ransomware IS a Disaster
Adam Scamihorn, Product Manager, InterVision
2:45pm ET
Keeping One Step Ahead – Data Breach to Data Extortion
Darren Manners, Founder, RedSpy365®
3:30pm ET
Securing Remote & Hybrid Workers
John Gray, CPO, & Kevin Van Mondfrans, VP Product Management, InterVision

4:00pm ET
Wrap-Up / Raffle
Knowledge is power
Our experts have compiled research and recommendations to help you better understand threats, protection, and solutions.